Bratwurst is one of our favourite sausages to eat and cook. On a bed of fried onions with mashed potato or in a classic bread bun, there really is nothing better.
This recipe strips back the fluff you may see on other sites and gives you the real German bratwurst, so feel free to add extra spices, a bit of chilli is great mixed in :) Give them a go!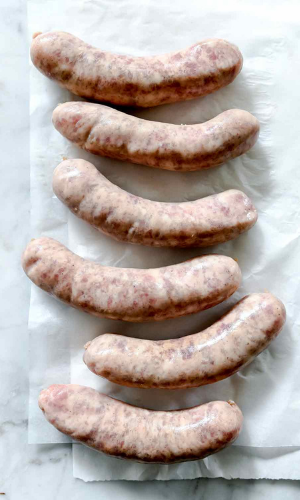 Cook time: 1 hour Prep time: 45 mins Level: Intermediate
WHAT YOU WILL NEED
Ingredients in this list will make a 10kg batch. 
4.0kg lean pork (95vl visual lean) 
2.5kg Belly Pork (Cut into 1" cubes)
2.0kg Pork Back Fat
1.5kg Iced Water 
10.0kg (reduce ingredients by proportion for smaller batches)
150g Cooking Salt
79g Thüringer Meisterklasse 
60g Bullifrisch Phosphate Mix
METHOD
1. Mince the lean pork and pork fat through a 4.5mm plate and add bullifrisch phosphate mix.
2. Add the iced water with the minced meat and mix thoroughly until the water is absorbed.
3. Add the salt. and Thüringer Meisterklasse Seasoning and mix.
4. Add the diced cubed Pork Belly, mix well, and then mince everything back through a 6.0mm plate.  
5. After mincing, the mix/paste must now be worked by hand (place the batch on a worktop and really massage the mix) for at least 5 minutes. This final mixing ensures that enough protein is available to bind the fat and the water. 
6. Fill into Natural Hog casings that have been pre-soaked for at least 1 hour.
7. Gently simmer the finished Bratwurst in hot water for 10-15 mins until the sausage reaches a core temperature of 75°c. If this is done, the protein will degenerate and the sausage will gain the typical texture and colour of a "Bratwurst".
8. After heating the sausages should be cooled down in cold water. When cold they can be wrapped and refrigerated and re-cooked when required on the grill or pan.
Weschenfelder Top Tip: the seasoning does not contain any preservatives. Use within 3 days or freeze.