Returns & Delivery Information Policy
WHAT ARE YOUR DELIVERY OPTIONS?
UK Shipping
The couriers we use are DHL & Royal Mail. Shipping will be calculated at checkout and will depend on weight and Postcode.
The delivery options we provide are as follows:
Next Working day delivery (before 1pm) – £6.95 (£5.79 + VAT) – UK Mainland Orders placed before 1pm Monday to Friday should arrive the next working day. Next-Day orders placed on Friday before 1pm will arrive on Monday. This excludes Northern Ireland, Highlands, and the Islands.
Standard UK delivery – £3.95 (£3.29 + VAT) - Delivered within 2-4 days of ordering. Highlands and Islands please allow an extra day or two.
Saturday UK Delivery – £12.50 (£10.42 + VAT) - For a Saturday delivery, order before 1pm on Friday to ensure your parcel will arrive on Saturday. This Excludes highlands and islands.
Delivery to Northern Ireland, Highlands and Islands - £6.95 (£5.79 + VAT) - (including the following postcodes, AB30, 31, 33-38, 41-45, 51-56, 63. DD8, 9, 10. FK8, 3. FK17-21. IV1-56, PH 10-14, TD15 2. HS1-9, KA27-28. KW1-17, PA20-49, 60-80. PH19-26, 30-44, 49, 50. ZE1-3, TR21-25). Please allow 48 hours + for delivery to these postcodes. For parcels below 1kg to these postcodes - £3.95 (£3.29 +VAT).
Delivery to Channel Islands of Jersey and Guernsey - £12.50.
Free Standard UK Delivery - (Only available on orders Over £100) This offer includes all highlands and islands postcodes but excludes the Channel Islands.
On orders over £100, you will automatically qualify for Free Standard Delivery providing your delivery address is in the UK (Excluding Channel Islands and some Highland postcodes). If your delivery address is in the Highlands or Islands please allow an extra day for delivery.
Orders placed before 1pm on a Friday with the next-day delivery option should arrive the following Monday (excluding bank holidays). Orders placed after 1pm on a Friday with next-day delivery should arrive the following Tuesday.
Orders placed on a weekend will usually be delivered on the following Tuesday with next-day delivery or Wednesday with standard delivery.
Please note: orders placed during busy periods may be subject to a longer lead time and we cannot guarantee delivery within the above time zone. We will however do our utmost to ensure all deliveries are as fast as possible. Please call our online team if you have any questions and we will be happy to help.
If the products in your basket weigh over 25.01kg and you live outside mainland UK, the calculation may be double due to the shipment taking up 2 parcels as to 1.
Delivery costs will be calculated at checkout. If you are unsure whether your delivery address falls inside UK Mainland, please use the DHL Service availability and delivery times graph (link below) where you can search using your postcode. https://www.dhlparcel.co.uk/en/business-users/support-hub/business-support/postcode-service-availability.html
Palatable Items will be organised with the customer and therefore delivery may have a longer lead time due to the admin that needs to be done for this.
Items weighing under 0-2kg are mostly sent with Royal Mail and items weighing over 2kg are sent with DHL. Some items weighing below 2kg will can still be sent with DHL due to their size and shape. If your item is sent with DHL we are able to offer a track and trace service in real-time. Check out their new app below which can help you track your order.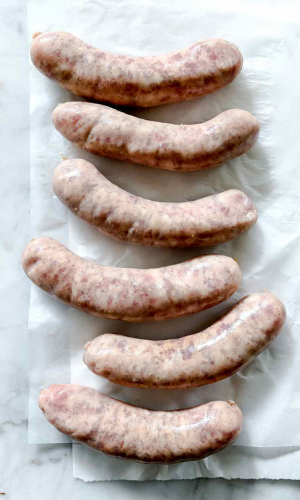 NOW THERE ARE EVEN MORE OPTIONS TO CHECK THE DELIVERY STATUS OF YOUR ORDERS*
Download the app today to track or redirect your deliveries. Track + Trace in \"real-time\" and if your plans have changed redirect deliveries to preferred locations.
Your parcel tracking number will be detailed on your despatch confirmation email/delivery SMS (providing we have your email / mobile number).
Not tempted by the app?
No worries, our online team will help you track down your parcel just email [email protected] with your order number and we will be able to send you an update as soon as we can.
---
European Shipping
We are able to ship to customers across mainland Europe. Since Brexit 1st Jan 2021, we are unable to ship casings and certain food products to Europe. Items not able to be shipped to Europe are highlighted on the website and you will not be able to proceed with your order at the checkout if these items are added to the basket.
Following Brexit you will no longer be charged UK Tax at checkout but you will be charged Customs Duty and VAT which are calculated at the checkout for an upfront total cost of your order.
The postage, customs and VAT rates are all dependent on where you live, what you order, the weight and the price of the items. All of this will be calculated at checkout to make it a worry-free purchase.
Please see below for the list of European countries we ship to:
Republic of Ireland, Austria, Belgium, Bulgaria, Croatia, Cyprus, Czech Republic, Denmark, Estonia, Finland, France, Germany, Gibraltar, Greece (Mainland), Hungary, Iceland, Italy, Latvia, Liechtenstein, Lithuania, Luxembourg, Macedonia, Malta, Monaco, Moldova, Montenegro, Netherlands, Norway, Poland, Portugal, Romania, San Marino, Serbia, Sweden, Slovakia, Slovenia, Switzerland.
If your country is not listed here, please contact us for information and if posible a shipping quote.
For most European destinations the delivery time can vary, but we suggest allowing 5-10 days working days, depending on your location. There may be delays on shipments as we and couriers are still getting used to VAT checks and customs clearance since Brexit.
Worldwide Shipping
If you are located outside of Europe we can sometimes ship to the Far East, Africa, Australia, Canada, New Zealand, and the USA depending on the items being ordered. Please contact us for advice on Countries we are able to ship to and what can be sent.
---
Contracts
If goods are not delivered in the specified time we are not liable for any trader's contracts. It is up to the buyer to ensure they order with an ample amount of time and take into account human error, busy periods and road disruption.
Policy on Returns
Should you need to return goods or products, or exchange goods, you must in the first instance notify us within 14 working days of receipt of the goods by calling on 01642 241395 or by emailing [email protected]. All goods must be returned unused, in their original state, and in the original packing to Weschenfelder Direct Ltd at 10 Copeland Court, Riverside, Middlesbrough TS2 1RN. Returns should always include a copy of your original invoice with your name and address clearly shown, and a short explanatory note with reasons for the return.
Goods to be returned for reasons that are not the fault of Weschenfelder Direct are returned at your own risk and cost. We will refund the items on the order only and not the original postage paid. We can arrange a collection of the goods if this is required or preferred. Please contact us for further information. If you are sending the products, we always advise to to ship the products tracked. We are not responsible for the products until they reach us at our warehouse.
In the event that goods from your order arrive damaged, or if we have sent an incorrect item, please notify us immediately at 01642 241395 or by emailing [email protected], and we will arrange collection and redelivery.
If you purchase a product between November 1st and January 1st, your product will be valid for return or exchange for 42 days. This is specifically to allow those who receive goods and are gifting them as presents more time to return their items.
Please note we cannot accept returns of foodstuffs or casings if their protective packaging has been opened.