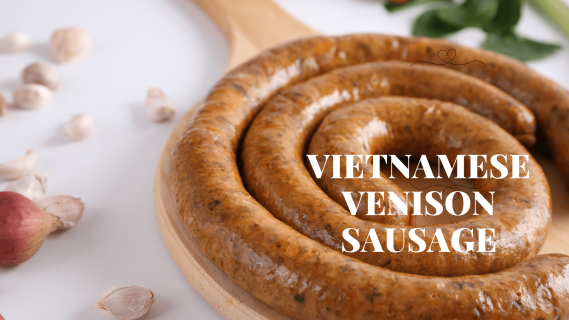 Venison should never be overlooked when it comes to sausages. It's a beautiful lean meat that can make epic lean sausages and best of all it carries and soaks up the flavour as good as any pork sausage out there. As far as game meats go Venison is probably our favourite, especially when it comes to sausages.
This recipe is inspired by a Vietnamese takeaway that has just opened up around the corner from us. They make the most fabulous sausages that bring a taste of South Eastern Asia to North Yorkshire.
The meat is coarse which is traditional in Vietnam, so you want to be using around an 8mm plate for this recipe. Considering that standard British butchers use a 4.5mm plate for their sausage meat, this is quite the step up.  
 When it comes to the ingredients, all the usual suspects are in there when you think of Asian food. From garlic to coriander to a dash of fish sauce this recipe brings the flavour in abundance. 
If you want to try something totally different then this is the recipe for you! 
Ingredients
3.62kg venison cut into 1 inch cubes - 0.9kg of pork back fat, cut into inch cubes.
65g cup grated fresh ginger
65g lime juice
85g fish sauce
1 medium carrot, finely grated
4 serrano peppers or other hot fresh chiles, minced
8 garlic cloves minced
30g sugar
30g kosher salt
237ml icy water
130g finely chopped fresh coriander (add after grinding)
65g finely chopped basil or mint (add after grinding)
10 spring onions, thinly sliced (add after grinding)
Hog Casings (8-10m) 
Meat Prep
When making sausages it's best to keep everything cold and work out of the fridge or freezer. As soon as you have done anything with the meat, pop it back in the fridge to get the meat at an ideal temperature for use. 
This makes the meat easier to work with. If your hands are going slightly blue and the meat feels like it is at an arctic temperature then you are doing it right! 
1. Start by soaking your hog casings in lukewarm water. Ideally overnight or for up to 3 hours +.
2.  Dice up your venison and pork fat into 1-inch chunks. Pop into a bowl and add the grated ginger, lime juice, fish sauce, carrot, peppers, garlic, sugar, and kosher salt to the meat. Pop it through the mincer on an 8mm plate. 
3. Add the coriander, basil and spring onions to the meat mixture. Now add the water bit by bit mixing thoroughly with your hands for 3 5 minutes.
4. Once mixed in, place the mixture in the freezer.
Stuffing Sausages
1. When the casings are flexible and clean, rinse the inside of the casing by fitting an end over the faucet in your sink and running water through the entire length of the casing.
2. Get the meat mixture out of your fridge and fill the barrel of your stuffer with the meat. 
3. Add some olive oil to your nozzle and pop the casings onto your nozzle with around 2 inches hanging off the end. 
4. Working slowly, stuff the sausage mixture into the casings. Twist the sausage into links measuring 5-6 inches long. 
5. Once you finished twisting, put your sausages into the fridge or freezer immediately.
Weschenfelder Top Tip: These sausages taste great on the BBQ and make the perfect appetiser at a dinner party. You could also try this one in a bun as an epic Vietnamese Hotdog.