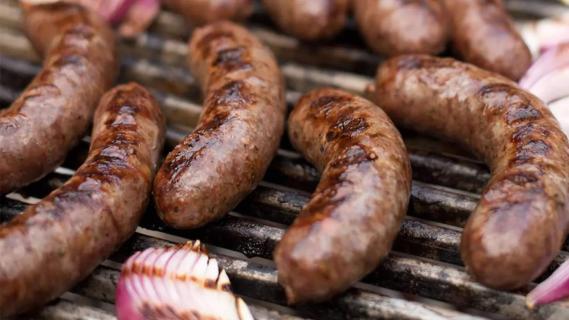 For many people who live in the UK Countryside, it is not uncommon to be able to get hold of pheasant meat very easily and at a good price. 
Known for being a bit of a dry meat has meant pheasant has earnt a bad reputation. Matched with the right ingredients and with a good recipe, pheasant really can make a delicious lean sausage.
For this reason, we teamed up with Damon from Big Ds BBQ and the guys at Leonards to design a sausage mix that brings out the best in Pheasant meat. 
The big hitters in this mix include various herbs and spices including paprika, cayenne, oregano and garlic which are all balanced out by a hint of lemon oil.
These Italian-inspired flavours matched up with British Pheasant really do create an unforgettable sausage.
In this recipe, we use 30% Pork fat but if you want a leaner sausage you can cut it back to 20% and you should still get a succulent sausage that your family and friends will love.
Ingredients
3.612kg Pheasant Minced
1.548kg Pork Fat Minced
1.032kg Cold Water or a sweet Red Wine
Spooled Hog Casings (20mtr)
4-6g Lemon zest (Optional)
The Pheasant mix has lemon oil included in the pack but to ramp up the citrusy twist we have included lemon zest in this recipe. Orange zest works just as well, so if you are feeling adventurous feel free to go down that road. 
Soak your casings overnight or for a minimum of 3 hours.
Cut the Pheasant and Pork fat into 1-inch chunks.
Place the Meat into the freezer for 20 minutes to ensure your meat is extra cold. Then pop it through the mincer on a 6mm plate.
Mix in your pack of Pheasant Mix and zest with the meat. Mix thoroughly.
Now add the cold water or cold red wine, adding a bit a time allowing the meat to absorb the liquid. 
Mix thoroughly for 3-5 minutes with your hands or a sausage mixer. 
To get an idea of the flavour, make a small sausage patty; place the rest of the sausage mixture in the refrigerator. Cook the small patty in a small frying pan over medium-high heat until cooked through. Taste and adjust the seasonings of sausage if necessary.
Ensure your meat is well chilled and prepare your sausage stuffer or mincer for stuffing by feeding on the casings to the nozzle.
If you are using a mincer to stuff your sausages, remove the knife and 6mm plate and add a 16mm plate to your mincer.
Pack in your mixture to your stuffer and start to fill the casings on your nozzle.
Your sausages are now ready to hit the grill. Cook on a medium heat. 
Weschenfelder Top Tip: We love our customers being adventurous so why not smoke these sausages if you have a smoker available.  
A few from Testing With Big D's BBQ!