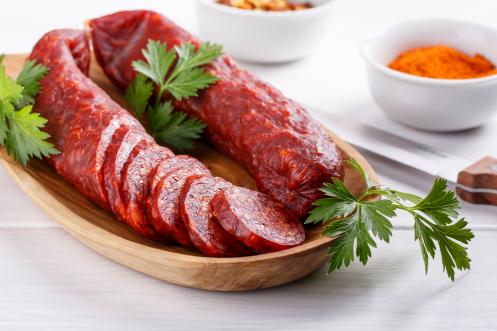 If you go to any central European city you will find hundreds of different types of paprika. This sausage is Safe bet. You can make them up and freeze them, boil them when you want them and let them cool for a slicing sausage. It's a bit like having dried sausage without having to dry it. Safe when it comes to worrying about botulism and all that and an ideal starter sausage to impress your friends with.
Cook time: 50 minutes Prep time: 45-60 mins Level Beginner
WHAT YOU WILL NEED
Basic Filling
1kg pork shoulder
150g breadcrumbs or rusk
150ml Water
Seasoning
17g sea salt or kosher salt
10g paprika
3g pepper
4-6 crushed grated garlic cloves
Casings
2 metres of beef runners 40/43 soaked for at least an hour and washed inside and out.
OR
2 metres of Hog casings 34+
METHOD
1. Cube the meat into about 1.5cm pieces and chill in the freezer for 30 minutes.
2. Grind the meat with coarse plate and mix all the dry ingredients, adding the water to make a paste.
3. This can be left overnight in the fridge to infuse the flavours.
4. Test a portion for seasoning and then stuff into beef runner or hog casings and tie firmly with twine.
5. They will freeze for up to three months. When it comes to cooking them, you should cook them by boiling them for 30-45 minutes ensuring it is cooked all the way through.