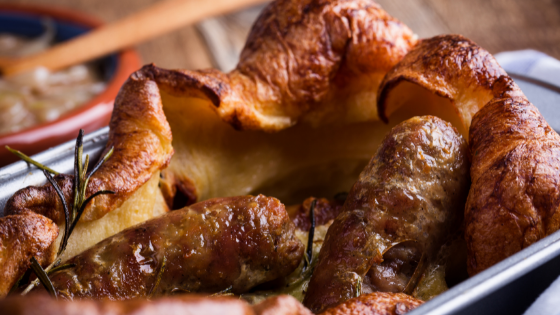 Like Catherine Wheels and penny for the Guy, sausages are a Bonfire Night tradition. You could serve them with fail-safe mash or in buns as hot dogs, but you could also go super retro and make toad in the hole with a twist.
Cook time: 1 hour Prep time: 35 mins Level: Intermediate
WHAT YOU WILL NEED
550g firecracker sausages (preferably homemade) 
2 tblsp sunflower oil
130g plain flour
3 large eggs lightly beaten
200ml milk
50g manchego cheese
For the Gravy
20g butter
1 large onion
1tbsp flour
100ml sherry.
450ml of beef stock.
1 bay leaf.
METHOD
1. Preheat the oven to 220°C, fan 200°C, gas 7. Tip the sausages into a (roughly) 28x20cm roasting tin that can go on the hob, pour over 1 tablespoon of sunflower oil, and bake in the oven for 10 minutes.
2. To make the batter, sift the flour into a mixing bowl and add a pinch of salt. In a jug, whisk together the eggs, milk, and 50ml water.
3. Make a well in the centre of the flour and pour in the wet ingredients. Gradually whisk this in, slowly drawing in the flour until you have a smooth batter.
4. Remove the roasting tin from the oven and add the remaining oil.  
5. Place the tin over a high heat on the hob and, once the oil is smoking hot, pour the batter over and around the sausages and scatter over the cheese. Return to the oven and bake for 25-30 minutes, until golden, well risen, and crispy.
6. Meanwhile, make the gravy; melt the butter in a pan and add the onion. Cook gently for 10-15 minutes, stirring occasionally, until soft and translucent. Add the flour to the pan and cook, stirring, for 1 minute.
7. Add the flour to the pan and cook, stirring, for 1 minute. Remove from the heat and gradually mix in the sherry, followed by the stock.
8. Add the bay leaf to the pan and return to the heat. Stir until slightly thickened, then increase the heat and simmer for 5-10 minutes, until slightly reduced.
9. Season to taste. Discard the bay leaf and serve the gravy alongside the toad in the hole.
Weschenfelder Top Tip: Use Firecracker Mix to make your sausages and fill them into hog casings. The chunkier the sausages the better in a toad in the hole.