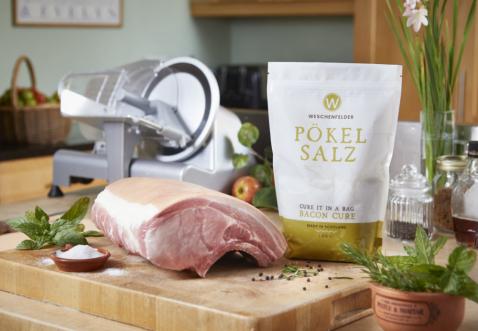 Our new product Pökel Salz was born out of a high demand for an easy to use low nitrite salt cure. Designed to be used straight out of the pack to produce a tasty traditional styled home cured bacon, this cure makes it so simple to turn any pork belly or pork loin into mouthwatering homemade bacon.
Pökel Salz is ideal for curing your meat in a food grade bag or a vacuum bag. Making bacon really is a simple process so why not give it a go?
This bay and juniper berry recipe is a classic a flavour combo and will be sure to make a mouthwatering bacon that will keep you coming back for more.
Cook time: 10-15 mins Prep time: 10 mins (Curing time 10-15 days) Level Beginner
WHAT YOU WILL NEED
1kg Pork Loin Or Pork Belly
35g Weschenfelder Pökel Salz
1g Muscovado sugar
5g Black Pepper (Ground)
0.5g Bay leaves (Ground)
0.5g Juniper Berries (Chopped)
METHOD
1. Weigh 3.5% Pökel Salz to the weight of your meat i.e. 35g per kilo of meat.
2. In a separate bowl add your muscovado sugar, black pepper, bay leaves and juniper berries.
3. Add your mix to the cure and thoroughly mix in the ingredients with the salts.
4. Rub your cure over the meat side of the loin or belly, getting the cure into all nooks and crannies.
5. Put the meat in a food grade bag or vacuum bag and let it cure for 7-10 days in a fridge.
6. After the first 24 hours take it out of the fridge ad massage the meat ensuring the cure is worked well into the surface of the meat place the meat back into the fridge.
7. Throughout the duration of the curing time, turn the meat on a daily basis. Once the meat is cured dispose of the bag and rinse the excess cure off under cold water and pat dry with a paper towel.
8. Place the meat back in the fridge in a open tray to allow the meat to air dry for a minimum of 3-5 days. The larger the piece of meat the longer you should leave it to air dry before slicing.
9. Once your bacon has settled and dried, slice to your preferred thickness using a knife or if you have one an electric slicer and grill or fry your bacon to your hearts content.