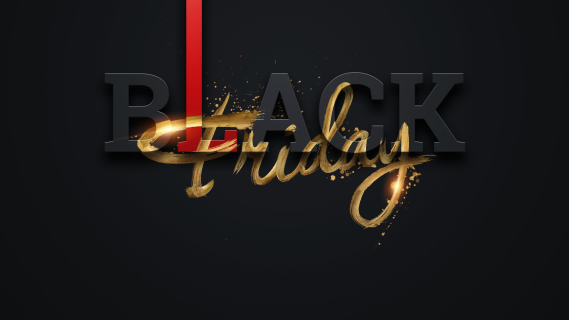 WHAT ARE BLACK FRIDAY SALES?
As we head towards Christmas, the phenomenon of Black Friday is something that has become a key event in our diaries. Black Friday originates in the US, but is now a worldwide event that sees a range of products available at discounted prices. Black Friday deals tend to see great savings across our assortments, which is particularly useful with Christmas fast approaching
WHEN IS BLACK FRIDAY?
Taking its lead from the American calendar, Black Friday is always the day after the Thanksgiving holiday, which means this year it will take place on Friday 26th November. We'll have a wide range of Black Friday deals available on the day, and in case you happen to miss out, we will extend the offers right the way through the weekend. This will be quickly followed by Cyber Monday - 29 November 2021 - for another chance at finding some pre-Christmas bargains.
DELIVERY OPTIONS
We have plenty of delivery options, so you can choose the one that suits you best. 

Free UK Mainland Delivery for orders over £100 >>> Spoiler alert  >>> (Over BLACK FRIDAY WEEKEND this will be reduced to £45) 
Next Day UK Mainland Delivery £6.95
Standard Delivery Mainland UK (2-4 days) £3.95
Highlands £6.95
Jersey/Guernsey £10.50
Delivery to 38 countries starting from £19.50
DHL will send you a text on the day of the delivery to let you know when to expect it.
What was the most popular offer in 2020?
10% off all Mincers. The most popular mincer last Black Friday was the No.8 El Young Mincer which we sold out of before Cyber Monday.
The other product that many Weschenfelder Customers took advantage of was 15% off any Kits. This included the Curing Starter Kit, Salami and Chorizo Kit, Salami Kit, Chorizo Kit, and the Haggis Kit.
TOP TIPS FOR BLACK FRIDAY SHOPPING
SHARE IT WITH YOUR LOVED ONES
START YOUR CHRISTMAS SHOPPING AND THINK OF THOSE WHO LOVE EXPLORING IN THE KITCHEN.
DO THE RESEARCH BEFORE BLACK FRIDAY.

Contact US!
We know it sounds crazy in this digital era but we are actual people who are willing to help you. No automated voice or automated questions that have no relation to your query. If you have any questions, get in touch with Nic or Kate:
[email protected]
[email protected]

or if you prefer, talk to us in person on 01642 241395.

Some of our products now have product reviews – See what other customers think of the item below the product description before you decide to add it to your basket.
Our service reviews are also available via Trustpilot so you know what kind of service to expect once you have made the purchase.
WHAT IS CYBER MONDAY?
Cyber Monday follows Black Friday weekend and is another Online Shopping day to make the most of the best deals before Christmas. As a way of encouraging shoppers to buy online, Cyber Monday first began back in 2005 and has now become an annual event, identified as being the busiest day of the year for online shopping. It's also a great way to find a bargain, just in case you happen to have missed any of the Black Friday deals.
WHEN IS CYBER MONDAY?
Cyber Monday is always the first Monday directly after Black Friday, either in late November or early December, with this year's event falling on Monday 30 November.
What Deals will Weschenfelder be offering?
Watch this space and make sure you sign up to our Newsletter to hear about all our Black Friday and Cyber Monday deals.
WIN WHEN YOU PURCHASE THIS BLACK FRIDAY AND CYBER MONDAY!
As a thank you for taking part in our Black Friday and Cyber Monday, every customer who purchases made over the weekend will be automatically entered into a prize draw.
Prizes include:

TAKAJE VACUUM PACKING MACHINE.

SALAMI & CHORIZO KIT.

STARTER SAUSAGE KIT.

BURGER PRESS.

£50 VOUCHER.
There will be a total of 5 winners chosen at random from all the purchases made over the Black Friday and Cyber Monday weekend.